It is safe to say that after the last 18 months, most mums, especially mums to young children could do with a relaxing spa day or stay! Last year we were given a voucher to experience a relaxing spa stay at Whittlebury Hall! I obviously jumped at the chance but then lockdown 2.0 and 3.0 happened!
We eventually managed to find a weekend and Neil very kindly gave up his space so my friend and I could enjoy a relaxing 24 hours off mum duties! I mean we absolutely deserve it! 
We opted for the Time Out Spa Stay package which included a day in the spa, a lovely treatment called a "Peaceful Escape", lunch, dinner and an overnight stay in the hotel. So basically the dream scenario when you want 24 hours off!
Lunch At Whittlebury Park Spa
As we arrived we checked into the hotel and our room was ready so we could drop our bags off before heading down to lunch. (note: I did not realise how big Whittlebury Hall was! It felt like our room was really far away!)
Our lunch was booked for 12.15 in the spa. We went for the Korean Chicken sharing platter and OMG WOW, it was absolutely delicious! Steph is a pescatarian, so she had the prawns and smoked salmon whilst I devoured the Korean chicken. It was utterly delicious. There was a small dish of tomatoes and mozzarella balls, slices of freshly baked bread, hummus, a feta salad and a home-made coleslaw. Basically, a sharing platter of all my favourite things! And then there was the pudding. Steph and I both love chocolate and this pudding ticked all the boxes. It was chocolate parfait / mouse with cream and berries. It really was the best pudding… ever!
We decided to just stick with water at lunch, seeing as we had the whole rest of the day of relaxation, we saved the fizz and cocktails until the evening!
Whittlebury Time Out Spa Stay
Peaceful Escape Treatment
Our itinerary at Whittlebury stated that we were kicking off our stay with a "Peaceful Escape". But we had no idea what that meant!
 Well we soon found out as we made our way up to the spa treatment area. A lovely lady accompanied me to an ambient treatment room. It turns out the Peaceful Escape is a combination of treatments to help you relax and unwind. It starts with a full body hot oil application and then you have two mini treatments of your choice. The options were a scalp massage, a foot massage, a hand and arm massage or a facial. I went for the hand and arm massage and facial. And both were SO lovely and the full body oil was dreamy!
The Peaceful Escape experience lasted 45 minutes and was super relaxing. I emerged from the treatment room feeling so relaxed and walked straight to the tranquillity room.
Have you ever been to spa and found the waterbeds to relax in? Well that's what the tranquility room is! There were four of these beds, along with ambient lighting, a warm snuggly blanket and that soothing spa music playing. I can honestly say I don't think I have ever felt so relaxed. Steph and I both nodded off!
Whittlebury Park Spa Facilities
We had full use of the spa facilities at Whittlebury as part of our stay. But these are split into two separate areas. There's the heat and ice experience and the Leisure Club. Inside the Leisure Club is a big swimming pool with jacuzzi, sauna and steam rooms, all decorated in a Roman/Greek decor which feels quite like you could be abroad!
Just outside this area there is a cafe for snacks and drinks, so later in the afternoon we treated ourselves to a cappuccino. We really tried to read our books but were too busy catching up and relaxing at the same time!
In the Heat & Ice area you can find saunas, steam rooms, sanariums, caldariums, ice caves, experience showers – the works! All set around a very luxurious hydropool with jacuzzi jets.
Steph and I really wanted to do the heat and ice experience properly so we would go into the steam rooms and saunas and then straight to the ice bucket drop or ice cave! It was absolutely invigorating and apparently very good for you!
Dinner At Aston's
We managed to put our room reservation back to 8pm as our original booking was 7pm which wouldn't have given us enough time after the spa closed at 6 to get ready and enjoy some girlie time getting ready in our room!
Part of the Time Out Spa Stay involved a three course dinner at Aston's, one of Whittlebury's onsite restaurants.
I had the stilton salad to start followed by the beef and Steph had smoked salmon to start and the halloumi, cannelloni bean and roasted vegetable main course. For dessert we shared the lemon parfait and the vegan chocolate cheesecake. The food was really delicious and was served with super speed! I had hardly had any of my drink before the dessert was on our table!
Afterwards we enjoyed a few cocktails in the bar before heading to bed for an early night and undisturbed peaceful sleep!
Breakfast
Breakfast was served up until 10.30 and was possibly the largest selection of breakfast you could wish for! From a full English breakfast, to DIY muesli, chocolate churros (I mean, no thank you for breakfast!), toast with condiments, cold meats, pastries, you name it, they had it! You could also order a cappuccino! It is safe to say Steph and I managed two breakfasts that morning!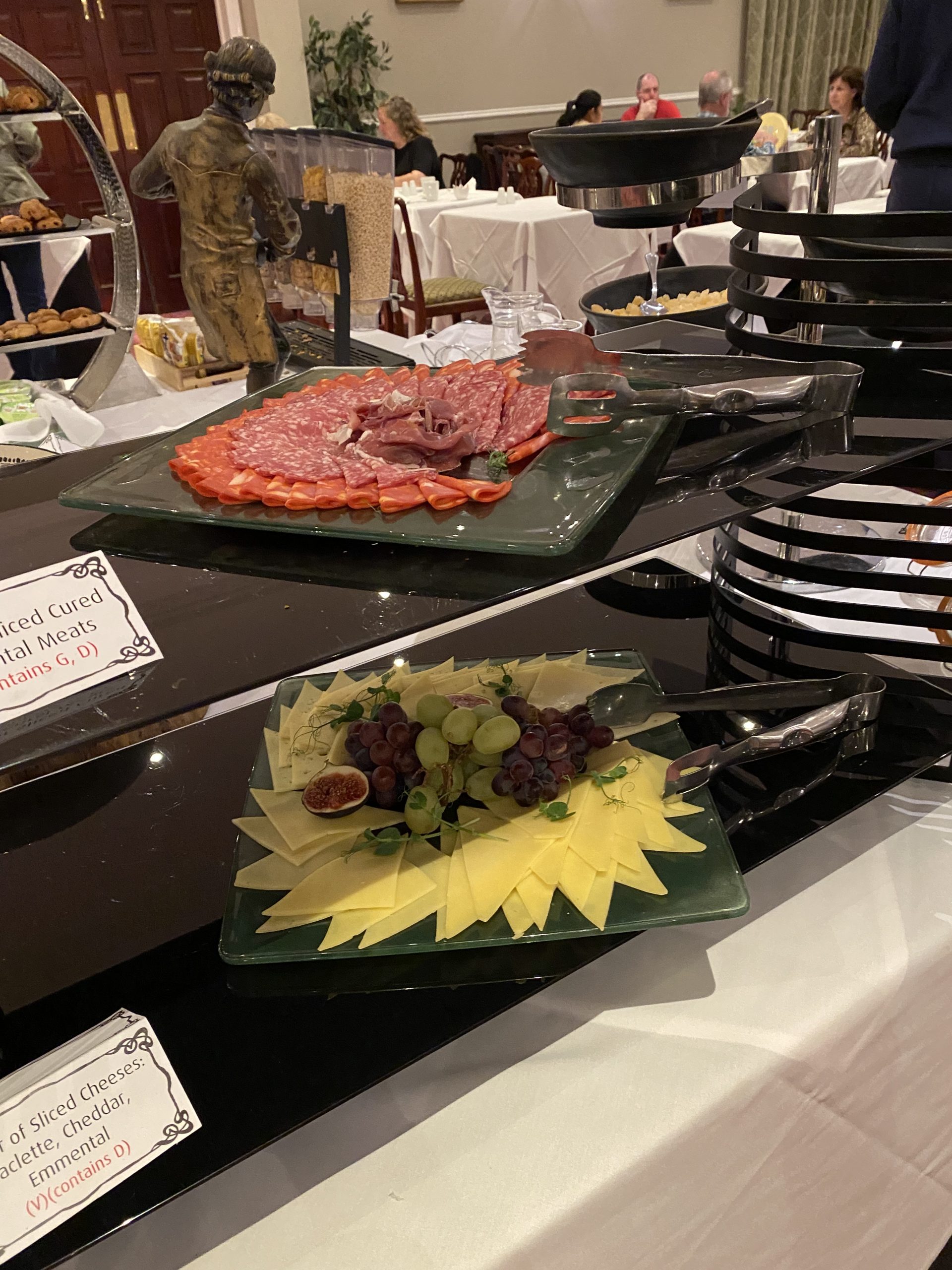 We had such a lovely stay at Whittlebury. The spa literally has everything you could want in terms of facilities and the treatments are wonderful, the food was excellent and so were the cocktails! So all in all, I definitely would recommend the Time Out Spa Stay at Whittlebury, it's a wonderful little getaway with lots to do.
So if you need to treat yourself to a spa stay or day then book Whittlebury Hall!
To find your perfect spa break at Whittlebury Hall click here.